This year, I hosted my second (sold out!) Fancy Hotel Bombing on the Strip in Vegas during WPPI. The goal is to run in and out of hotels, have a blast taking photos of our awesome models and dodge security along the way. And man did we run into security. We had 9 models, 20 photographers plus me and my good friend/photog Andrew Gawdun (who I couldn't/wouldn't have done this without).
A total of 31 people equipped with lights, stands & cameras all starting out by crashing the Venetian lobby where we were kicked out in about 15 minutes. Venetian security was extremely nice. I say that because we were met later on by some...not so nice security =)
Once we were kicked out of there. We spent some time outside the Venetian shooting & hanging out before we switched outfits.
For most of my shots I got to use my new Hexagon Softbox Diffuser 60 from XP PhotoGear which is one of the coolest pieces of equipment we've bought in a while. Here'a a pic of me modeling it with a real model =)
Next we moved into the Plazzo to get the models changed into their next outfits (Drag). During the switch, we encountered the angriest 5ft head of security you could wish for. She did not want us in her hotel, at all.
The problem was the models & our brilliant hair & makeup team Liz Mcgee & Charise McFarland, were spread out all over the hallway. And we needed time to finish the outfit & makeup/hair change. I figured my best tactic was to make a big scene and argue with security as long as I could get away with it until we were forcibly removed. And that worked for a while, I bought hair & makeup at least 20 minutes. Plus it's always fun to argue with someone who is taking their job WAY too seriously.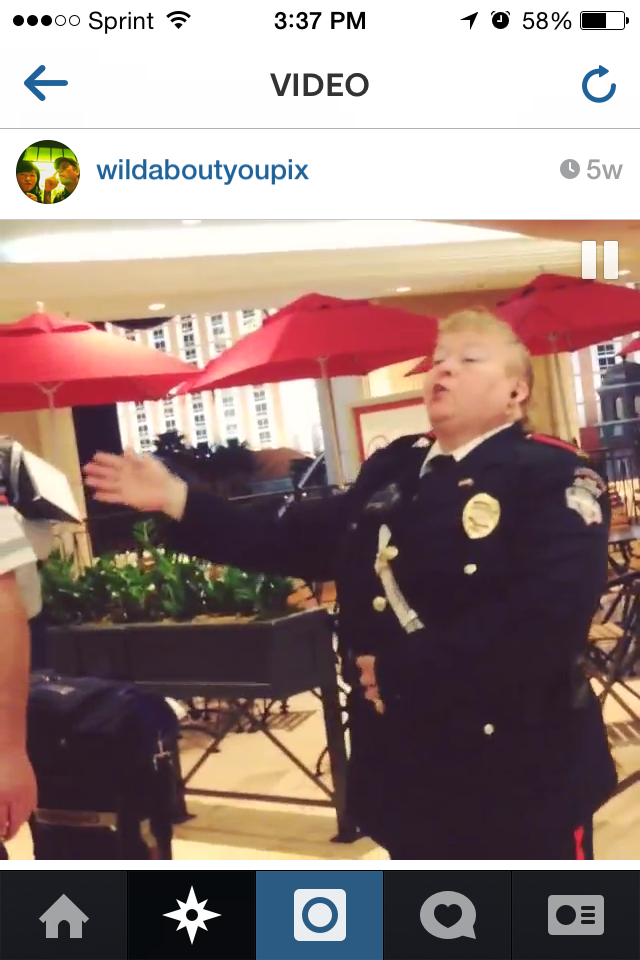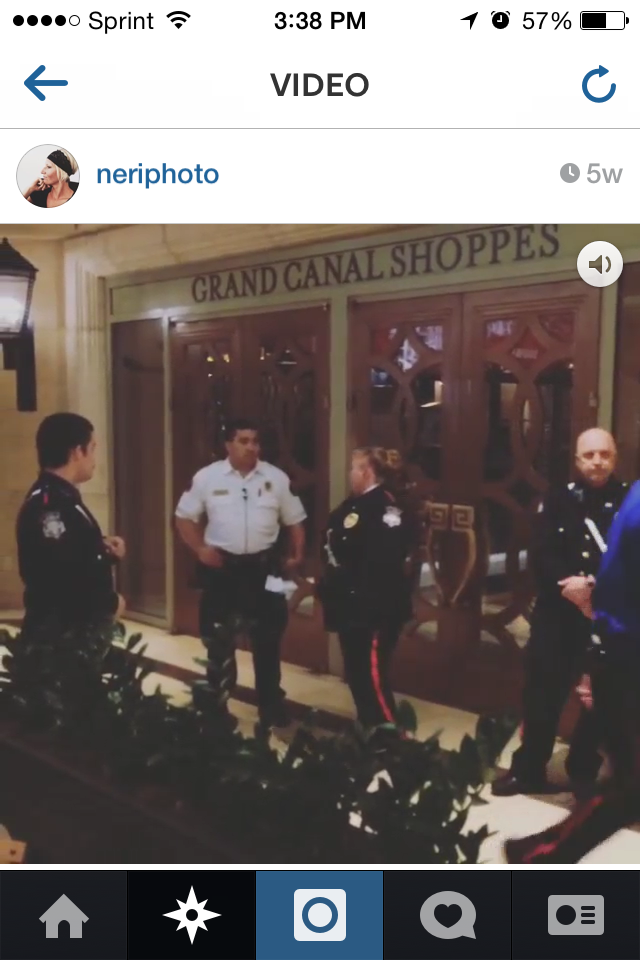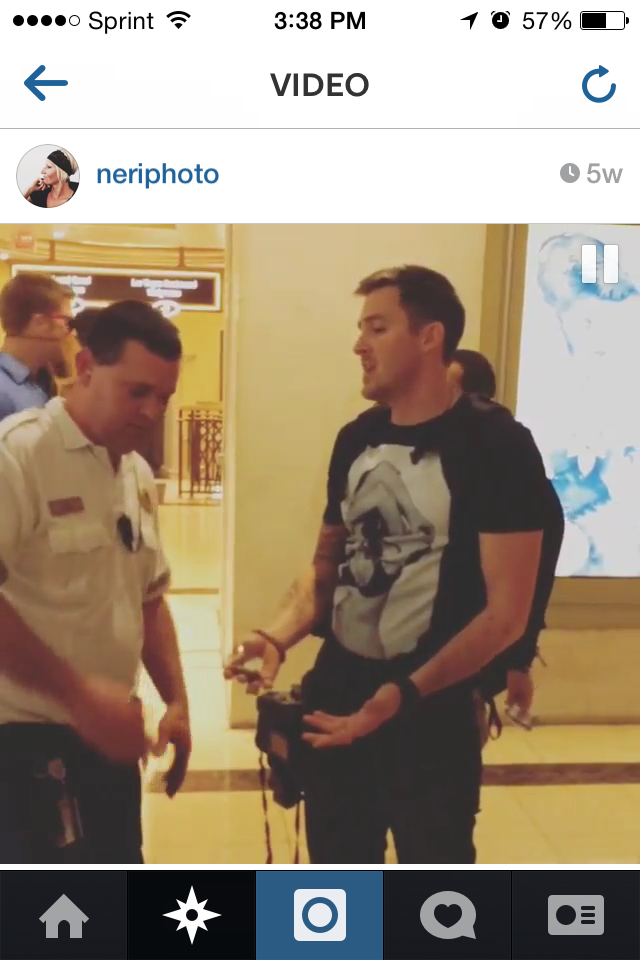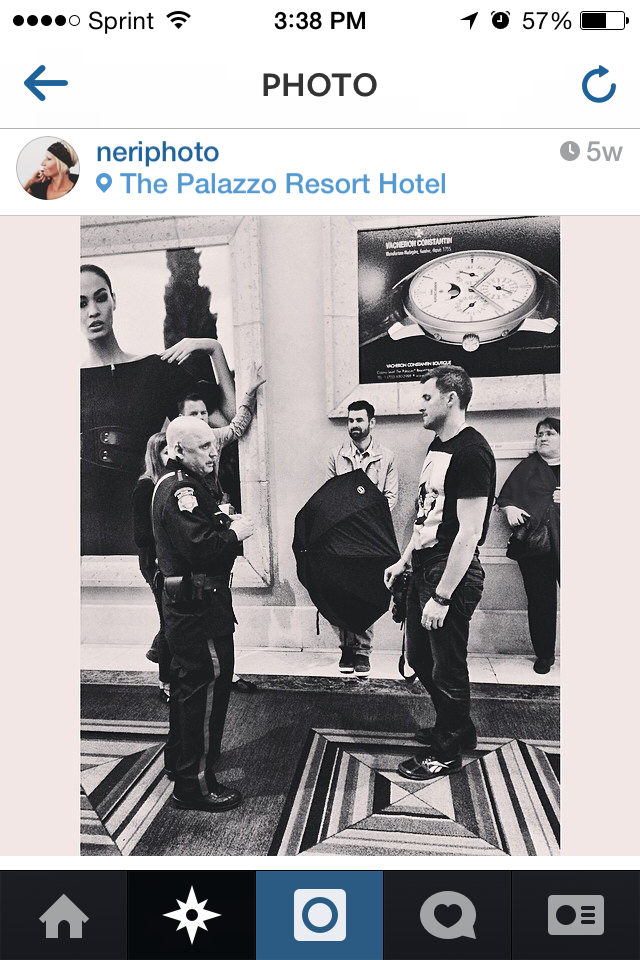 You should check out the videos on instagram, they're even better.
The best part of all this was when the head security guard came strutting up (you could already see she was going to end of our little makeup party) she looked beyond pissed before she even reached us. One of the photogs, Neringa, went up to her and handed her one of my special 'Permits' I gave to everyone in case we ran into trouble...
Simultaneously I thought, "oh no.." and "oh yes.."
And her (security) reaction was priceless," NO! NO, NO!... NO this is not OK, YOU HAVE TO LEAVE NOW!" That pissed her off to a whole new level. It was amazing.
So after that small incident and we were escorted out and far away from the premises, we spent sometime outside the Wynn and on the walkway that connects the Plazzo to the Wynn.
The last outfit was Skin. I loved my models, many returning from FHB1. It's fun to find people you not only enjoy shooting, but who you enjoy just hanging out with for a night on the strip. This was not a paid shoot, they did this for the fun of it, and that was the point. Much love to my stellar models.
I love this event, I hope to keep doing it every year. It's a lot of work and I don't make any money, but it's truly one of the funnest things I do all year, and keeping it free keeps it that way in my opinion. That allows me to not stress & have fun just like everyone else. I love it.
Thank you to everyone who participated!! Until Fancy Hotel Bombing 3! Love you guys!
Also, a big thank you to our sponsors for their generous giveaways! Spider Holster donated a belt system, Miller's Lab donated a big print, RadioPopper donated a full PX System, & Lumiquest donated 2 flash modifiers! Make sure you check them out. We are only sponsored by companies we use and believe in!